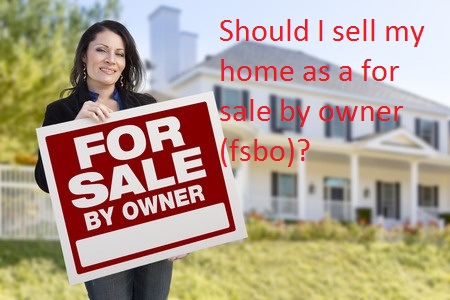 If you are thinking about selling your home the thought has probably occurred to you to sell without a Realtor. After all the Realtor Commission can add up to quite an amount of money. In Sarasota County the standard Real Estate commission is 6%. On a $500,000 home that commission would be $30,000.
With the Internet and Flat Fee MLS Brokers ,it seems like you can do everything on your own. You could try to sell your home without a Realtor, and become a for sale by owner (fsbo). But should you? I will give you the pros and cons so you can make an informed decision
Pros of being a for sale by owner (fsbo)


Having the possibility of Saving the Real Estate Commission.
You have total control on your end, you get the information directly from the buyer or buyer's Realtor and you can respond directly to them instead of having to go through a Realtor. You can do the advertisements and pictures yourself.
Cons of being a for sale by owner (fsbo)
Your Time. Acting as your own Realtor takes time. You will need to arrange showings, deal with low ball offers, take phone calls from buyers and Realtors who will be asking questions, and spend time on marketing. When I have a popular listing, I get many calls from Realtors about the listing. Do you have the time to handle all the phone calls and e-mails and is this the best use of your time?
Set up Showings: As the owner you will have to be there to show the house. You want the buyers to be able to speak freely with each other and to their agent, if they have one. With the owner around the buyers will be afraid to say what they are really thinking. Also, the buyers need to see the home as if it is their own and having the owner there doesn't help.
Contracts and legal issues: In Florida we use a 13 page contract, plus there are disclosure documents that need to be filled out. If you are someone that doesn't enjoy reading and understanding contracts this could be a problem.
Marketing: An experienced Realtor will know which features about your home will appeal to the greatest number of buyers. They will also know how to properly photograph your home and will be familiar with Internet marketing, which is essential since many buyers start their search on the Internet.
Possible lower Net proceeds: Even if you do manage to find a buyer on your own, you may receive less money at the closing table. According to the National Association of Realtors (NAR), For sale by owners (FSBOs) accounted for 8% of home sales in 2014. The typical FSBO home sold for $210,000 compared to $249,000 for agent-assisted home sales.
I understand the possibility of saving a Real Estate commission is a strong motivator to try selling a home for sale by owner. However, if you weigh in the time commitment, and the likelihood of a lower sales price than an agent assisted home sale, are you really saving anything?
If you have a home located in Sarasota or Manatee Counties, I offer a free phone consultation on the value of your home and the best way to market it. Contact Jason Silverstein here.

About the Author,

Jason Silverstein has been has been a life long resident of Sarasota, FL and a Realtor since 1998, he writes based on his experiences.